Review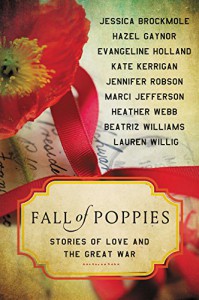 On the eleventh hour of the eleventh day of the eleventh month . . .

November 11, 1918. After four long, dark years of fighting, the Great War ends at last, and the world is forever changed. For soldiers, loved ones, and survivors, the years ahead stretch with new promise, even as their hearts are marked by all those who have been lost.

As families come back together, lovers reunite, and strangers take solace in each other, everyone has a story to tell.

In this moving, unforgettable collection, nine top historical fiction authors share stories of love, strength, and renewal as hope takes root in a fall of poppies.
Goodreads.com
A collection of World War 1 era stories featuring writers such as Lauren Willig, Jessica Brockmore (Letters from Skye), Beatriz Williams and Kate Kerrigan (Ellis Island)

The standout stories, for me:

* "An American Airman in Paris" -- Beatriz Williams' story of the secret of Octavian's photograph of Sophie Faninal, whom he liked to think of as his "girl back home"

* "Hush" by Hazel Gaynor: Midwife Annie Rawlins watched two of her sons march off to war. One has already been killed, Annie waits for news of the other. Meanwhile, the story focuses on Annie's struggle to save the life of a baby she's just delivered.


"Is he dead, Mrs. Rawlins?"


Annie wipes the sweat from her forehead. "No, Beth. He isn't. He just hasn't figured out how to live yet."


The newborn is the son of Tom Miller, the village station master, who now has conflicting emotions around his stance as a conscientious objector. He worries that his new son's fight to breathe is somehow karma for Tom not going off to fight.
Most of the other stories just fell sort of middle of the road for me, but I really liked these two.